To reset your password, go to partner.fairtradeusa.org and click the Forgot Your Password link.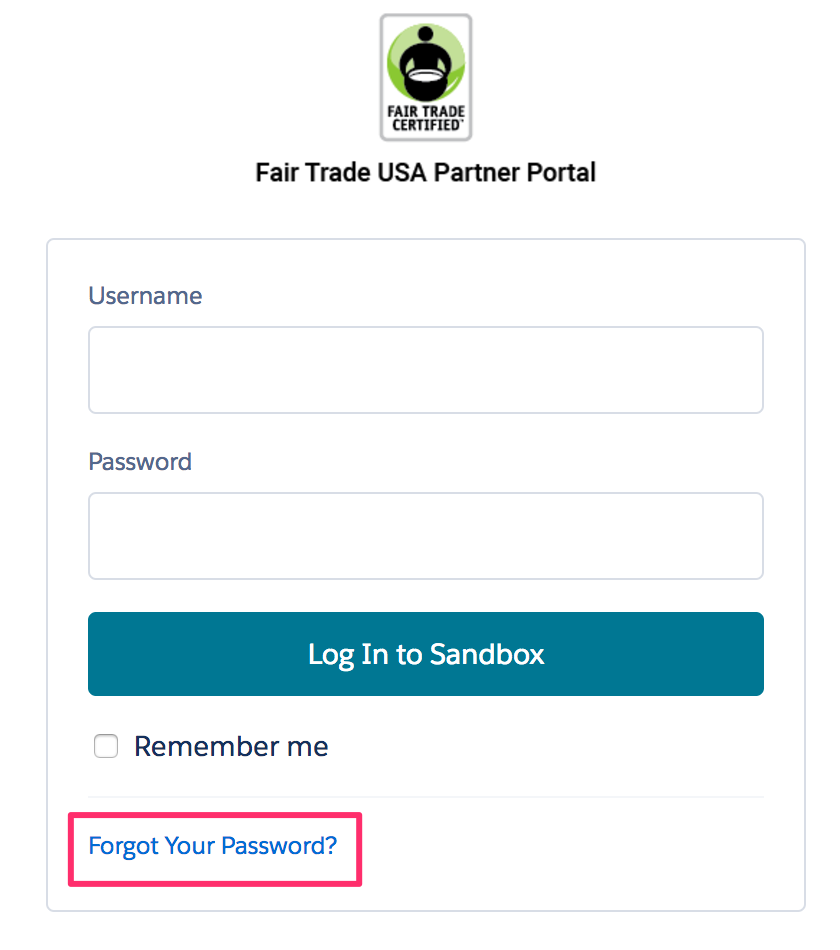 Once you've submitted the necessary information to reset your password, check your email for further instructions. You should receive a password reset email from Salesforce sent on our behalf.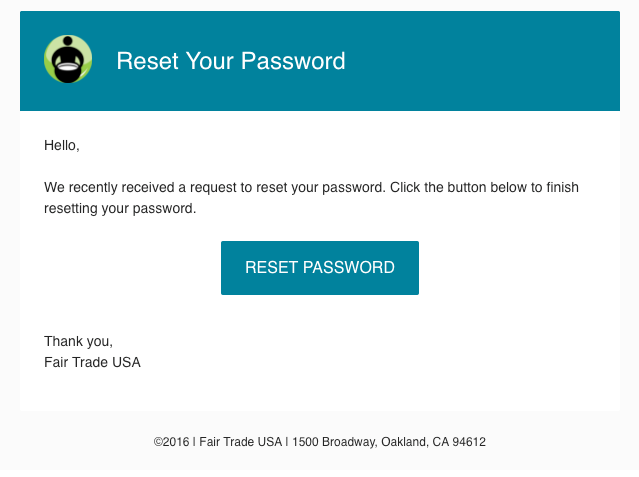 Follow the instructions to finish resetting your password.
If you do not receive an email, please check your "Spam" or "Junk" email folder. 
If you do not see the email in your email account at all, it is possible that your email service provider has been configured to block automated emails such as password reset emails. One solution to this issue is to ask your email system administrator to whitelist IP addresses from which our applications send password reset emails. Below is a table of the IP ranges to whitelist.
| | |
| --- | --- |
| IPv4 Network | IPv4 IP Range |
| 13.108.238.128/28 | 13.108.238.128 - 13.108.238.142 |
| 13.108.238.144/28 | 13.108.238.144 - 13.108.238.158 |
| 13.108.254.128/28 | 13.108.254.128 - 13.108.254.142 |
| 13.108.254.144/28 | 13.108.254.144 - 13.108.254.158 |
| 13.110.6.176/28 | 13.110.6.176 - 13.110.6.190 |
| 13.110.6.192/28 | 13.110.6.192 - 13.110.6.206 |
| 13.110.6.224/28 | 13.110.6.224 - 13.110.6.238 |
| 13.110.14.176/28 | 13.110.14.176 - 13.110.14.190 |
| 13.110.14.192/28 | 13.110.14.192 - 13.110.14.206 |
| 13.110.14.224/28 | 13.110.14.224 - 13.110.14.238 |
| 96.43.144.64/28 | 96.43.144.64 - 96.43.144.65 |
| 96.43.144.64/28 | 96.43.144.64 - 96.43.144.78 |
| 96.43.147.64/28 | 96.43.147.64 - 96.43.147.78 |
| 96.43.151.64/28 | 96.43.151.64 - 96.43.151.78 |
| 136.146.128.64/28 | 136.146.128.64 - 136.146.128.78 |
| 136.147.46.176/28 | 136.147.46.176 - 190 |
| 136.146.208.16/28 | 136.146.208.16 - 136.146.208.30 |
| 136.146.210.16/28 | 136.146.210.16 - 136.146.210.30 |
| 136.147.46.192/26 | 136.147.46.192 - 136.147.46.206 |
| 136.147.62.176/28 | 136.147.62.176 - 136.147.62.190 |
| 136.147.62.224/26 | 136.147.62.192 - 136.147.62.206 |
| 136.147.46.192/26 | 136.147.46.208 - 136.147.46.222 |
| 136.147.62.192/26 | 136.147.62.208 - 136.147.62.222 |
| 136.147.46.192/26 | 136.147.46.224 - 136.147.46.238 |
| 136.147.62.192/26 | 136.147.62.224 - 136.147.62.238 |
| 85.222.130.224/28 | 85.222.130.224 - 85.222.130.238 |
| 85.222.138.224/28 | 85.222.138.224 - 85.222.138.238 |
| 85.222.150.224/28 | 85.222.150.224 - 85.222.150.238 |
| 85.222.158.224/28 | 85.222.158.224 - 85.222.158.238 |
| 161.71.6.224/28 | 161.71.6.224 - 161.71.6.238 |
| 161.71.14.224/28 | 161.71.14.224 - 161.71.14.238 |
| 101.53.164.224/28 | 101.53.164.224 - 101.53.164.238 |
| 101.53.172.224/28 | 101.53.172.224 - 101.53.172.238 |